On April 7th, 2006, volunteers for Smoke-free Laramie and many community members celebrated the one year anniversary of Laramie's smoke-free ordinance. The event was a great success and provided an opportunity for people to get together who hadn't seen each other since the ordinance campaign.
University of Wyoming basketball players Brandon Ewing (left) and James Ebert visit a 4th grade classroom at Slade Elementary in Laramie. The players were there to talk about why they don't use tobacco as part of a new program from ACTP.
Looking for a tobacco-free family event during the summer months? Attend a Laramie Colts game here in Laramie! The Laramie Colts are a locally owned minor league baseball team that starts their season in early June. Check out their website for their full season schedule!
Access Youth Conference
Youth access to tobacco addressed April 12-14
Mark Hicks attended this event, along with other program managers and health professionals from Wyoming.

The inaugural conference brought together hundreds of health professionals, law enforcement, educators, researchers and others who work directly or indirectly in preventing underage youth tobacco use.

The focus of this conference was to confront the challenge of social sources (sources other than retailers) being a significant point of access to tobacco by youth. The conference provided a forum for successful approaches to improve best practices and developed a conference report that will, with attendees' input, point the way towards new research and approaches to attack the social sources problem.

Other areas of focus included:

* Education
* Enforcement
* Policy Development
* Treatment





Kick Butts Day 2006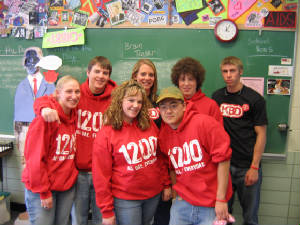 Kick Butts Day 2006 was a great success - youth at Laramie High School participated in a awareness activity that brought attention to the 1200 people each year that die from tobacco related diseases. The youth who participated wore t-shirts with the Kick Butts Day logo on them while others wore the "1200" sweatshirts. They went around the school and tagged students and staff with masking tape to represent someone who has died from tobacco, and explained to them about the human toll it takes.