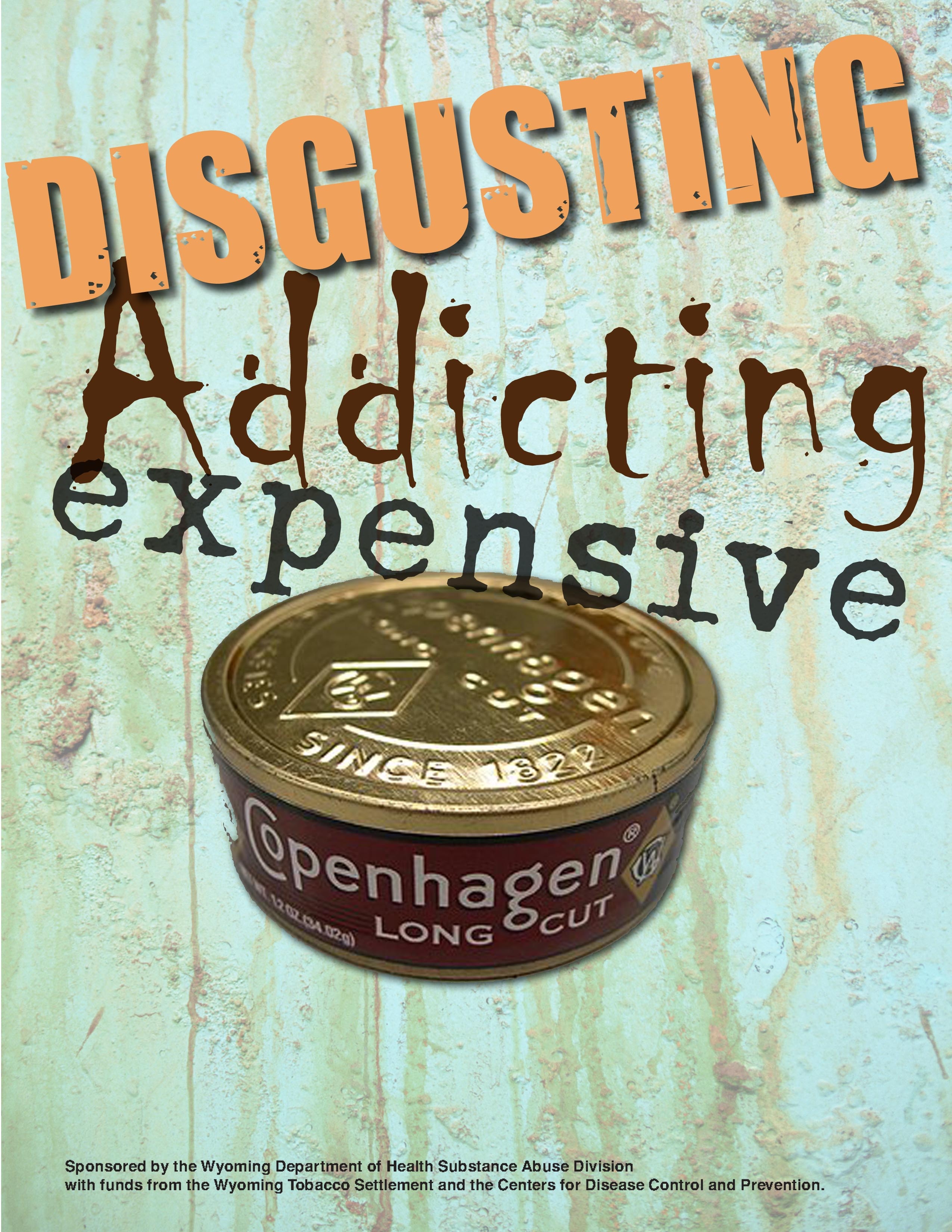 Smokeless does not mean harmless!
For more information about the dangers of spit tobacco, log onto www.throughwithchew.com


Conquering Spit Tobacco in Rural Wyoming

Spit tobacco is a significant problem in the state of Wyoming - this should be no surprise to anyone who knows the spirit of Wyoming: rural, frontier, and independent. Spit tobacco has long been associated with the Wyoming way of life - specifically the cowboy culture, rodeo events, and now, even our energy industry. The spit tobacco use rate for adults is 14.8%, almost twice the national average. The tobacco companies take advantage of Wyoming by spending millions of dollars each year to keep their foothold in our state - last year they spent $43.9 million marketing their deadly product.

The question is how do we fight the tobacco industry? Here in Laramie, Wyoming, the plan for Albany County Initiative is to begin by educating the tobacco companies' targeted demographic: young males. We will let them know spit tobacco is not a safe alternative to smoking, as one out of every five deaths in Wyoming is attributed to tobacco.

Next, policy change is the main goal in Laramie, home to the University of Wyoming (UW). The UW rodeo team currently accepts money from big tobacco companies, and this policy needs to change in order to send a message of health and not disease to the student body. A grassroots effort is underway to educate and recruit students on campus. Student advocates will carry the health message for policy change to the Dean of the Agriculture Department who oversees the rodeo program and work their way up through decision makers, if necessary.

Our qualitative research shows young men on campus switched from cigarettes to spit tobacco because they believed it was a lower health risk and they could use it anywhere. When asked what reasons they would give to kids to not start using tobacco, their response was it is "addicting and expensive." Non-spit users said overwhelmingly that they did not chew because it is "disgusting." Using this data, a poster campaign has been launched, educating college students and using these key words:disgusting, addicting, and expensive. Our focus group research reveals students read the posters on campus more than reading traditional media like newspapers, or listening to the radio. There are currently four different posters ready to be delivered throughout the campus over the next four months.



"Through With Chew Week" was held on February 12-18, 2006. The week was highlighted by "The Great American Spitout" on the 16th. Through With Chew Week is an educational campaign designed to decrease spit tobacco use while increasing awareness of spit tobacco's negative health consequences. Along with many other tobacco-free community programs across the state, Albany County Initiative will conduct prevention and education programs, distribute materials about quitting chew use, and conduct media campaigns about the negative health effects of spit and chewing tobacco. We will also give Quit Spit Kits to dentists, cessation providers, pharmacists, physicians, for distribution to spit tobacco users.

Conquering the spit tobacco problem in Wyoming will require time, education, and diligence. There is a growing confidence among Wyoming residents that spit tobacco will no longer define us. While UST may think their profit shares are safe in our state, they have yet to deal with the frontier, independent Wyoming spirit - something truly unconquerable.


Spit Tobacco Talking Points

Wyoming adult males use spit tobacco at a rate that is almost double the national average. 14.8 percent chew compared to 8 percent nationally. (BRFSS, 2003)

21.1 percent of Wyoming high school-aged male students report using smokeless tobacco, compared to 9.4 percent for males nationally. ThaT's more than DOUBLE the national average. (YRBS, 2003 and CDC Highlights, 2001


Wyoming has the third highest rate for female youth spit tobacco use at 5%, behind South Dakota and Montana. (YRBS, 2003. Retrievable at www.uwyo.edu/wysac, Final Trends Report, pg. 121.

Smokeless tobacco is associated with oral cancers, tooth and gum disease and cardiovascular disease. At least 28 cancer-causing chemicals have been identified in smokeless tobacco products. This product typically contains sand and grit that can wear down your teeth. (American Dental Association at www.ada.org; retrieved November
15, 2005.)

Smokeless tobacco users are up to 50 times more likely to get oral cancer than nonusers. (S.T.O.P. Guide,1997; Hatsukami, D. & H Severson, Nicotine and Tobacco Research, 1999.)

The estimated portion of tobacco advertising for Wyoming marketing last year was 43.9 Million dollars. (www.tobaccofreekids.org; retrieved November 15, 2005.)

Spit tobacco is not a safe alternative to smoking; 1 out of every 5 deaths in Wyoming is tobacco related. Oral cancer is a deadly form of cancer. One in three patients diagnosed with oral cancer die from it. (Oregon Research Institute; Vital Statistics)

Oral cancer kills quickly. The early signs of oral cancer most frequently appear at the site where spit tobacco is held in the mouth. Leukoplakia, a white, leathery like patch forms in the mouth at this site and is considered pre-cancerous. Other early warning signs which merit a visit to the dentist or physician include a sore that bleeds easily and doesnt heal, a lump anywhere in the mouth or neck, or trouble chewing, swallowing, or moving the tongue or jaw. (Spit tobacco- it Is no game. American Academy of Otolaryngology-Head and Neck Surgery, 2002)

The Wyoming Department of Health offers two free services to help you quit: Quitline (1-800-QUIT-NOW), a phone-based counseling service and Quitnet (www.wy.quitnet.com), a web-based quit tobacco service.


The National Tobacco-Free Rodeo Project / California Statewide Buck Tobacco Sponsorship Project (NTFRP / Buck Tobacco) website provides information about how to restrict tobacco sponsorship at rodeos.

Visit their website at: http://www.bucktobacco.org/

Copyright 2008, Albany County Tobacco Prevention